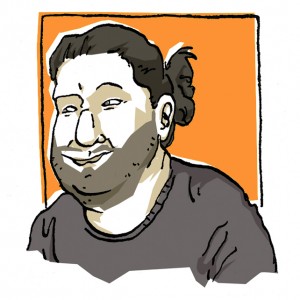 BORUT JERMAN

 Coordinator of expert work, vice president


 borut.jerman@pina.si
ENCOURAGING CRITICAL THINKING FOR SOCIAL PROGRESS, STRENGHTENING THOUGHT TO SEARCH FOR ALTERNATIVE FORMS OF EXISTING SYSTEM INEFFICIENCIES, PROMOTION OF THE SOCIAL EFFECT OF ART.
Borut is the coordinator of expert work at PiNA, working mainly in culture, art and critical reflection. He is an expertly-trained and an experienced planner, coordinator and head of national and international projects in the field of art, culture, active participation and citizenship.
READING RECCOMENDATION:
Michel Houellebecq – The Elementary Particles; Karlo Hmeljak – KRČRK
Programme head in the past, head of PR and vice-president of the Students' Association of Koper, and former head of PR for the Kino Otok – Isola Cinema international film festival, where he managed the fundraising activities and the broader festival execution. Borut is a former member of Aktiva F3, which helped introduce critical thought and re-creation to the University of Primorska, a former long-term leader and associate for the JEFF music festival and a current programme selector of Art kino Odeon Izola. Former film critic for the student paper Kaži and for the radio of the Slovenian minority in Italy, Radio TRST A.
SUPERPOWER:
KNOWS WHAT IT MEANS THAT THE ESSENCE IS NON-ESSENCE IN THE EXISTING.